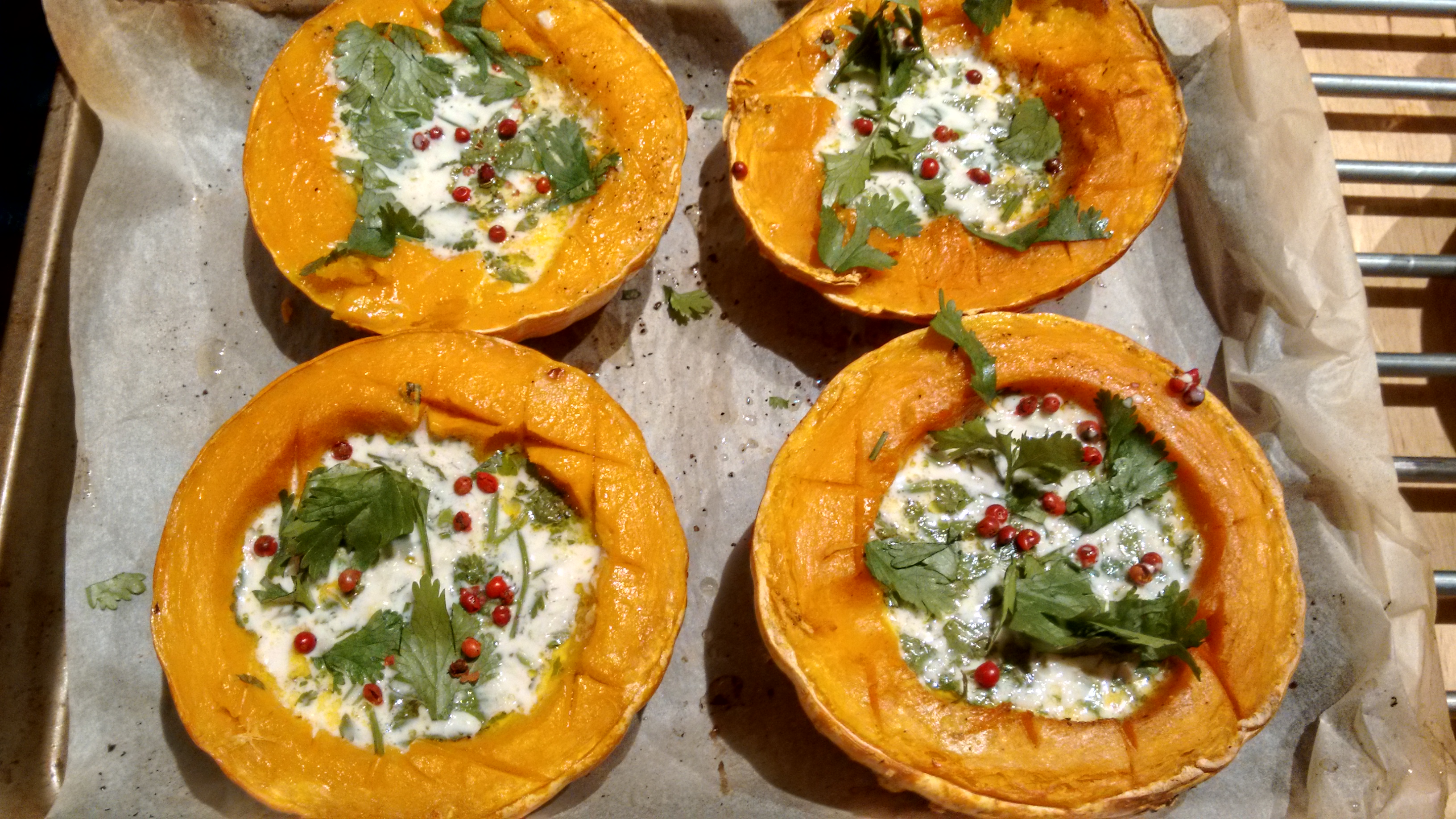 This recipe is one to celebrate the change in season. We are combining the new warm colours and comforting flavours of Autumn cooking with the lovely bright flesh of the squash but zinging things up with a  fresh, summery filling of coconut, ginger, lime and coriander. This is possibly the easiest meal ever, once you've chopped your squash in half! Let the oven do the work and enjoy the wait!
Serves 4
2 small squash suitable for halfing or if very small use 4
One tin of coconut milk
Thumbsize piece of ginger, grated
1- 2 limes – grated rind and juice
2 garlic cloves, crushed
Small bunch coriander, chopped
Teaspoon of pink peppercorns
Olive oil
1. Heat oven to 200c
2. Cut squash in half and remove seeds. Score the flesh with a knife in a criss-cross fashion and drizzle with a little oil and sprinkle with salt and pepper.
3. Place on a tray or oven dish , making sure the halves stay upright . Cover with a sheet of tinfoil and bake for 45 mins to one hour until the squash is tender
4. Meanwhile mix together the filling ingredients, except the peppercorns, adding as much lime to suit your taste.
5. When the squash are cooked carefully spoon in the coconut mixture – any extra sauce can be added as you eat.
6. Sprinkle a few pink peppercorns and pop back into the oven uncovered for about 10 mins until heated through .
That's it! Ready to serve with some green salad for an easy and tasty meal.