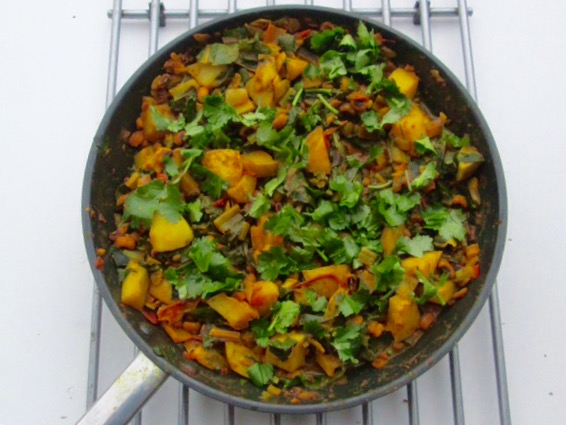 This recipe is from Laura's fantastic cooking friend, Hannah. Laura and Hannah became friends in India, bonding over a love of food and cooking amongst other things! This recipe is spicy, homely and great at this time of year when spinach is one of the best vegetables growing. Serve with rice or chapatti or with a few other curries for a feast!
1 can or 400 g cooked black eye beans
2 fresh tomatoes, roughly chopped
1 medium onion, chopped
3 cloves garlic, crushed and pressed
1 thumb ginger, peeled and grated
1 1/2 tsp cumin seed
Pinch asafoetida
1 hot red chilli or 1 tsp chilli flakes
1/2 tsp turmeric powder
1 heaped tsp ground cumin
1 heaped tsp ground coriander
salt
huge bunch of spinach
4 baby potatoes, chopped into small pieces and parboiled
bunch fresh coriander
tblsp oil
1. Heat the oil in a heavy based frying pan before adding the cumin seed. Cook for a couple of minutes until starting to crack. Add a pinch of asafoetida along with the onion and fry for a couple of minutes until the onion is becoming translucent.
2. Add the garlic and the ginger and cook for a further couple of minutes. Then add the tomato and small salt to taste. Cook until the tomatoes are beginning to break up.
3. Add all the dry spices and chilli and a little water if sticking and cook for a few minutes. Now add the beans and parboiled potatoes. Cook until the potatoes are done and beans are cooked through, if sticking add water but don't add to much as the curry should be quite dry and thick.
4. At the last minute and the chopped spinach and cook until just done (it shouldn't take more than a minute or two and should be left fairly fresh).
5. Check the seasoning and serve, topped with chopped fresh coriander.