Ok! 'Pizza' is a controversial word when it comes to being gluten free. We are really not into ground up cauliflower pizza bases, bases made with eggs or grainy textured crumbly messes! We want a pizza base that is intact enough to pick up and eat with your hands and not too obviously gluten free with the right amount of crunch and softness. We feel we've cracked it with this potato scone base pizza! Totally delish! Top with your favourite topping – there's so many to choose from…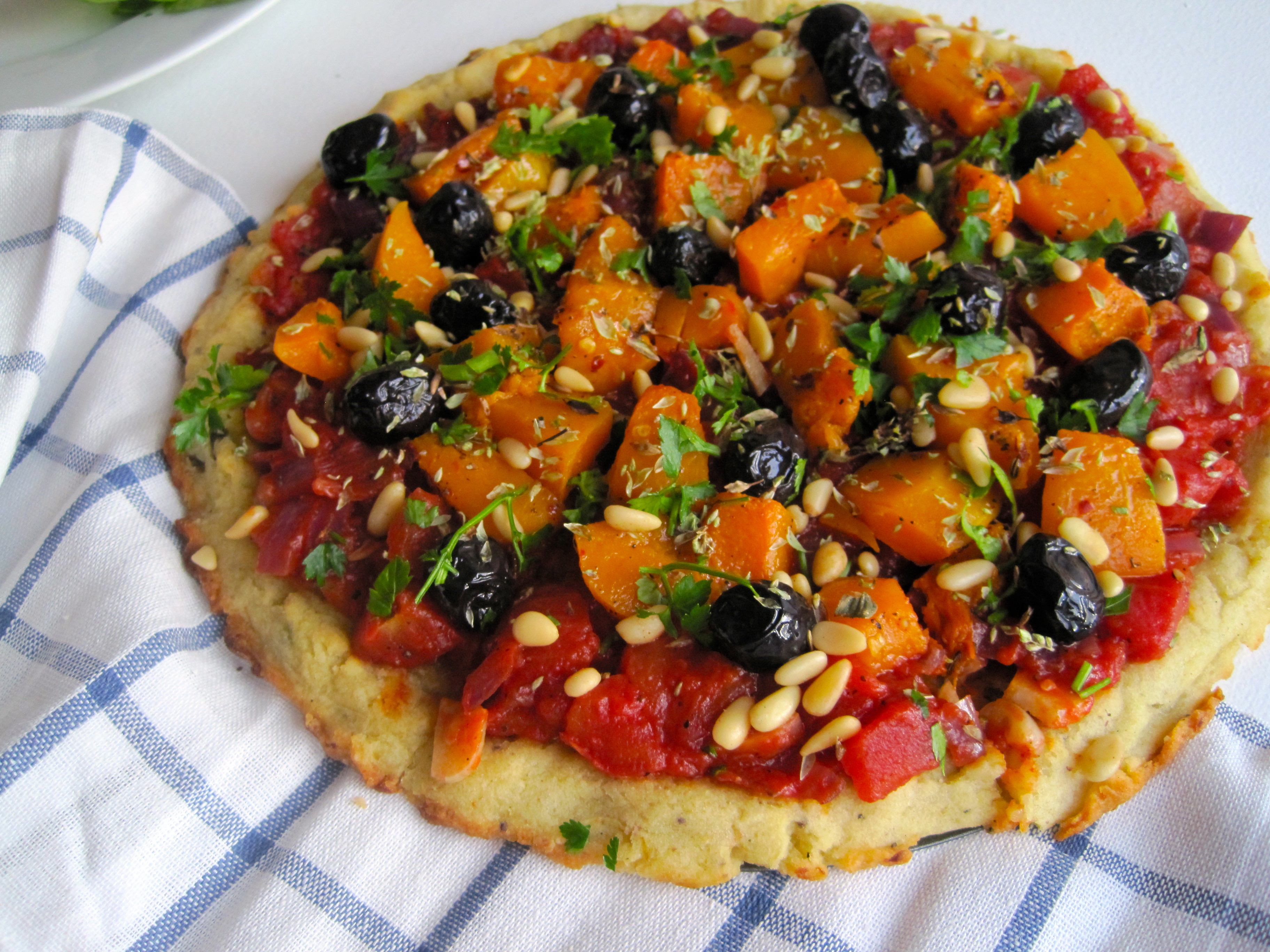 Base
350g left over mashed potato (make lots of mashed potato the day before)
75g gluten free plain flour
2 tblsps olive oil
Sauce
1 medium red onion, finely chopped
2 cloves garlic, pressed or finely chopped
1 tblsp olive oil
1 tin chopped tomatoes
1 tblsp tomato purée
2 tsps dried oregano
Topping (or put your own on!)
1/2 butternut squash, cubed & roasted in olive oil
handful black olives
2 tblsps pine nuts
2 tsps fresh parsley, chopped
1. Preheat the oven to 200c. First make the sauce by sautéing the onion in a little olive oil in a frying pan. When beginning to soften, add the garlic, tinned tomatoes and tomato purée. Simmer gently to thicken while you make the pizza base.
2. Mix the mashed potato with the flour and a pinch of salt until you have a non-sticky dough – add more flour to the mix if needed.
2. Turn the dough out onto a floured surface and knead until smooth before pressing into an oiled round loose bottom 28cm flan tin. Bake the base in the oven at 200c without the topping for around 20 minutes until beginning to colour.
3. Spread the sauce onto the base and add the topping and dried oregano, minus the fresh herbs. Return to the oven for another 10 minutes until crispy round the edges. Cut into wedges and serve hot with salad.