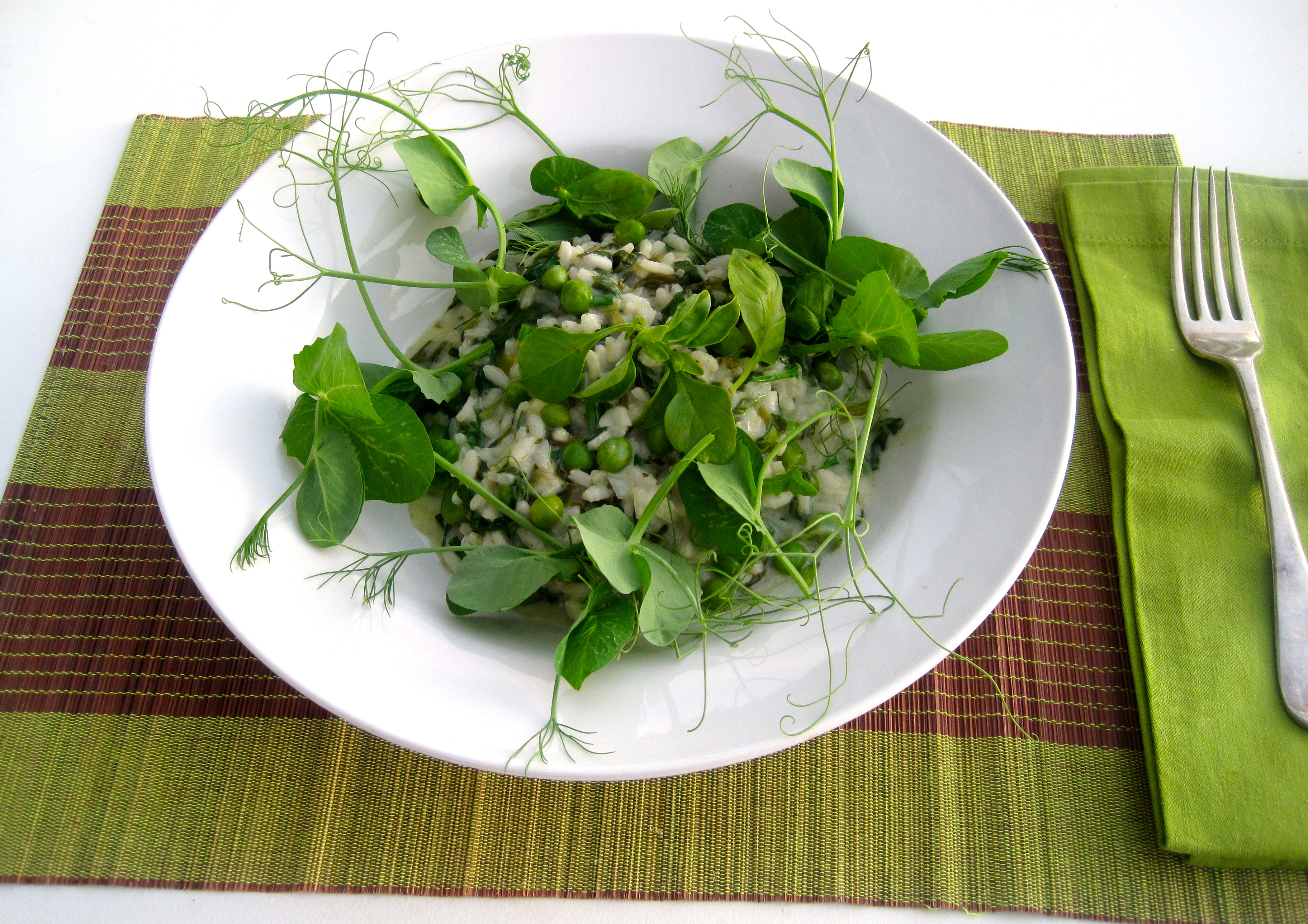 This is French chef Raymond Blanc's method for making risotto which allows you to make risotto without also cooking your face over a hot stove. We've got a small bunch of sorrel in our recipe which really adds to the flavour but if you can't get it don't worry – just miss it out! Vegan risotto might be met with some raised eyebrows, but it really is delicious and doesn't lack a thing. Of course, if you want a shaving if Parmesan – go ahead!
250 g arborio risotto rice
1 glass dry white wine
250 g frozen green peas
250 g baby spinach
small bunch of sorrel (optional)
parsley
thyme
1 litre veg stock (bouillon0
2 medium onions
3 cloves garlic
olive oil
2 tblsps soya cream
pea shoots to garnish
1. In a heavy based pan, heat a couple of tblsps olive oil and add the chopped onions, thyme and garlic. Sauté until cooked but not browned.
2. Add the rice to the pan and stir to coat in the onion and oil. Add the glass of wine and stir until absorbed into the rice and onion. Now add 2/3 of the stock and stir once. Bring to the boil and then reduce the heat right down to not even simmering and cover the pan with the lid. Cook for 20 minutes.
3. After 20 minutes, lift the lid and add the veg to the pan as well as the remaining stock. Leaving the pan on the heat, stir to combine the stock (for around 10 minutes). Stir in the soya cream and stir to warm through.
4. Remove from the heat and serve warm, topped with parlsey and pea shoots and good grinding of black pepper.