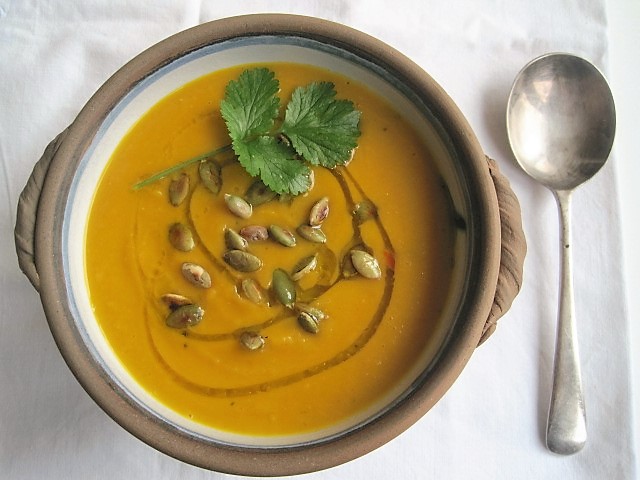 Continuing with our Autumnal, Seasonal recipes, this recipe makes the most of the season's favourite veg – the pumpkin! We used spaghetti squash for this soup, but you could easily make it with another pumpkin and it will be just as tasty. There's just the right amount of spice to warm you up but not so much to blow your head off. Keep warm and eat soup – there's nothing better to do when the weather's a bit dreary!
1.5 kg spaghetti squash or other squash or pumpkin like butternut or hokaido, chopped into 2 cm cubes
25o g carrots, chopped
1 onion, sliced
1 tsp ground turmeric
8 cardamom pods, seeds removed and crushed
thumb of ginger, peeled and grated
pinch of chilli flakes or fresh chilli to taste
1 tin of coconut milk
veg stock to cover
lemon oil (optional to decorate)
pumpkin seeds, toasted
fresh coriander (optional to decorate)
1. To a large pan add olive oil, heat a little and gently fry the onion for a couple of minutes before adding the spices, ginger and chilli. Cook for a further minute or 2, stirring to prevent them from sticking.
2. Add the carrots and the squash to the pan and stir to cover with the spices. Then cover the veg with stock and cook until the veg is just tender. Add the coconut milk and liquidize to make it smooth. Add more hot water if you want it thinner.
3. Serve with a drizzle of lemon oil, some toasted pumpkin seeds and a sprig of fresh coriander.