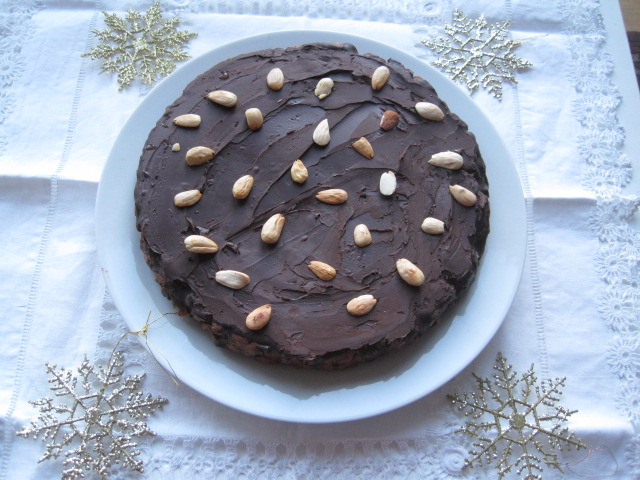 Our friend Ruth gave us the original idea for this Christmassy treat – with a bit of tweaking we've made it gluten free and sugar free, although there is technically sugar in candied peel and glacé cherries – you can just omit these if you like – it will still work very nicely! It's not really a cake – more of a nutty fruity slab ! Which means it's quite solid – ( in a good way! )
175 g dried apricots
175 g mix of hazel nuts and almonds
100 g raisins
100g candied peel
50 g dates
50 g prunes
50 g Brazil nuts
50 g glacé cherries
50 g candied peel
30 g dried banana chips
100 g self-raising gluten free flour
75 g date syrup
Zest of 1 unwaxed lemon
3 eggs
150 g dark chocolate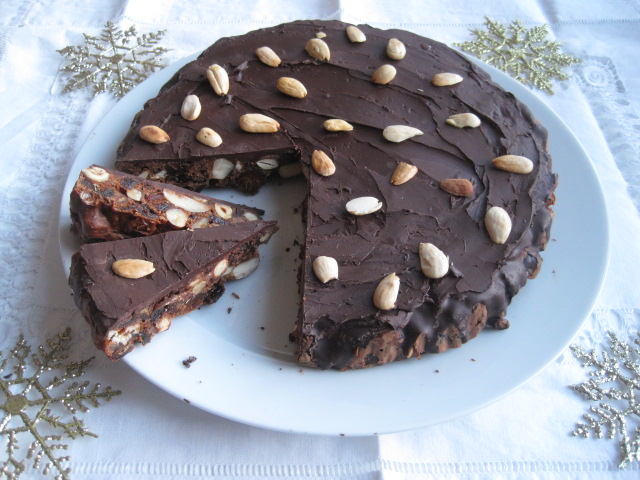 1. Preheat the oven to 160°c. Toast the nuts lightly in the oven – you can then keep these whole or chop them roughly.
2. Chop all the large dried fruits and candied peel and half or quarter the cherries and combine with the raisins, banana chips and toasted nuts.
3. Mix the flour, date syrup and lemon zest with the eggs and stir everything together thoroughly.
4. Spread the mix into a large parchment-lined flan tin or a ring tin if you have one and pat down well. Bake for 2 hours.
5. Cool in the tin, then spread the reverse side with melted chocolate and leave to set. You can decorate the top with a few flaked almonds .
It will keep well for a couple of weeks or so….