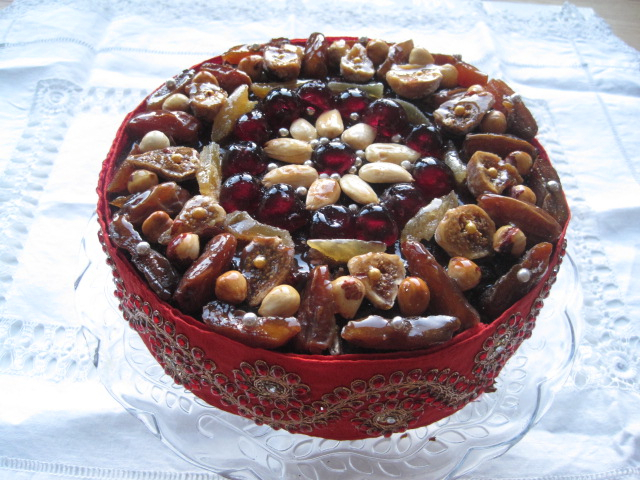 This is a really handy recipe for a last minute vegan Christmas cake if you didn't make yours in October! It can also be made in advance and stored well wrapped until you're ready to decorate it, just before Christmas. This suits many dietary requirements so perfect for whoever turns up at your door over the Festive season!
100 g honey
175 g organic rapeseed oil
100 g figs
100 g dates
110 g gluten free plain flour
110 g ground almonds
2 tsp mixed spice
1 tsp cinnamon
grated rind & juice of 1  lemon & 1 orange
1 tbs brandy
110 g cherries
110 g mixed peel
75 g soya flour
300 ml water
150 g raisins
150 g sultanas
150 g currants
75 g prunes
50 g flaked almonds
Topping :
1 tblsp brandy
Mix of fruit and nuts to decorate  – figs, prunes, dates, ginger, cherries, toasted blanched almonds, toasted &  skinned hazelnuts.
Glaze :
1/2 tblsp arrowroot
100 ml Apple juice
1. Preheat the oven to 170°c. Line a 23 cm cake tine with baking parchment.
2. Whisk the honey and oil together in a large bowl. Combine the soya flour and water and add the dates, figs and prunes, chopped mixed peel, lemon and orange rinds and juice, and brandy and then add this to the oil mix.
3. Stir together the flour, almonds, mixed spice and cinnamon with the rest of the dried fruit and combine everything together. Stir well and turn into the cake tin and bake for 3 – 3 1/2 hours, when a skewer inserted in the middle comes out clean.
4. Leave to cool in the tin then pierce the top with a skewer several times and pour over another tablespoon of brandy.
5. Wrap the cake for as long as you've got in tin foil, then unwrap and decorate with dried fruits and nuts and brush over the arrowroot glaze for a nice sheen. See step 6 for instructions to make the glaze.
6. To make the glaze place the arrowroot in a small saucepan mix in a little  of the apple juice and then add the remainder and bring to the boil stirring until clear and glossy. Leave to cool for 20 minutes and use to brush over the nut and fruit topping. Tie a festive ribbon around to finish it off.