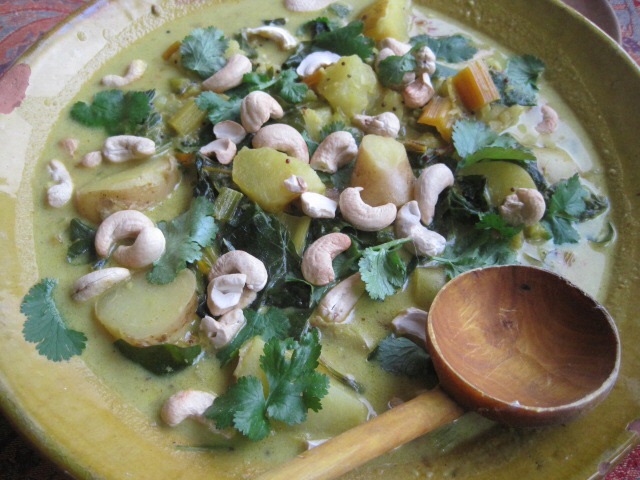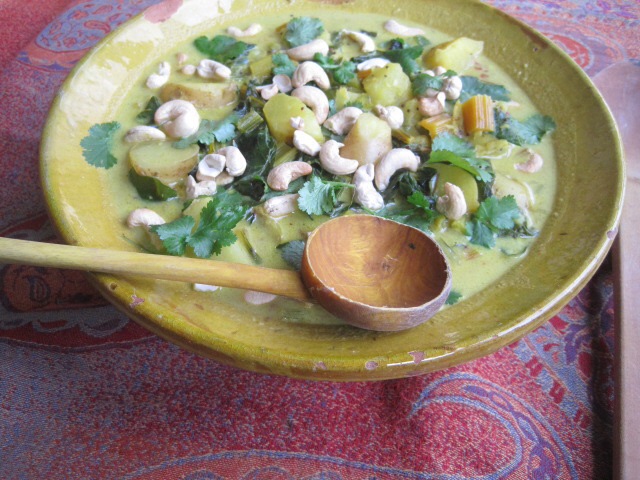 We really love curry. This one is Helen's Friday night favourite for Autumn. Served with basmati rice, tasty home made chutney and a good raita, there really is no better comfort food. You could add French beans to this if you have them, but otherwise it's great just as it is. Quick, fragrant and very easy to make, it will go down a storm. If you can't get chard, use spinach with large leaves.
1 onion, chopped
3 cloves garlic, peeled and finely chopped
thumb of ginger, peeled and grated
1 tsp cumin seed, ground
1 tsp ground coriander
1 tsp ground turmeric
1 tsp mustard seed
6 cardamom pods, seeds removed and ground
1 chilli, finely chopped
Big bunch of chard, stems chopped and leaves roughly chopped
500 g waxy potatoes
1/2 tin of coconut milk
Fresh coriander to serve
handful of toasted cashew nuts to serve
1. Heat a large pan with oil on a medium heat. Add the onion, garlic, ginger, chilli and spices and cook gently for 5 minutes. If sticking add a little water to release and prevent burning.
2. Add the potatoes and chard stems to the pan and stir for a couple of minutes to cover in the spice mix. Then add some boiling water to cover the potatoes. Cook gently with a lid on until the potatoes are just tender. Add the chard leaves and coconut milk and continue cooking for a further 5 minutes. Serve in a large dish, topped with fresh coriander and cashews.