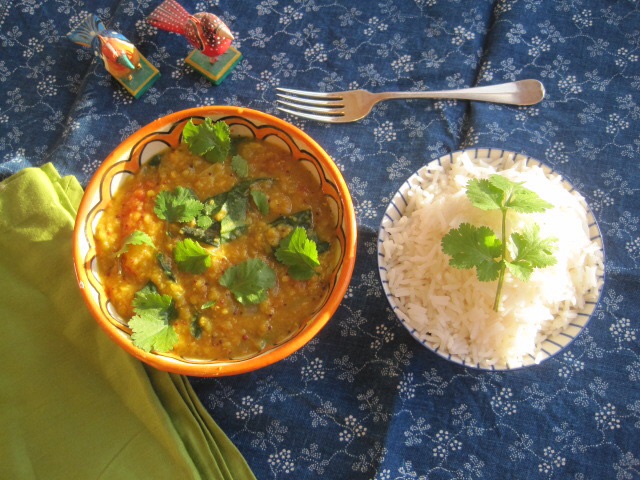 This is a hearty comfort dish and really handy for a quick mid week meal. Basically the easiest Indian fast food you can make at home. This is definitely a Scottish style dal – thicker! We like it served with rice, chutney, and a crunchy poppadum.
1 large onion
3 cloves garlic
1 tsp cumin seeds
1 tsp ground coriander
5 green cardamom pods
1 1/2 tsp ground turmeric
1 tsp black mustard seeds
1 red chilli
thumb sized lump of root ginger
200g red lentils
4 tomatoes
bunch of spinach or chard
coriander to garnish
Chop the onion finely and sauté in olive or rapeseed oil for a few minutes until soft but not browned.
Meanwhile bash open the cardamom pods, remove seeds and grind in a mortar and pestle along with the cumin seeds.
Add to the onion along with the ground coriander, chopped chilli, mustard seed and peeled and grated ginger. Stir for a couple of minutes, adding a spot of water towards the end.
Then add the lentils and cover over with water, add salt and simmer for 10 minutes. Meanwhile chop tomatoes and chard and stir in to the lentils to cook for another 10 minutes until everything is soft. Check for seasoning and add more water to thin to the consistency you like.
Sprinkle with chopped fresh coriander. Serve with basmati rice, chutney, poppadums and raita.