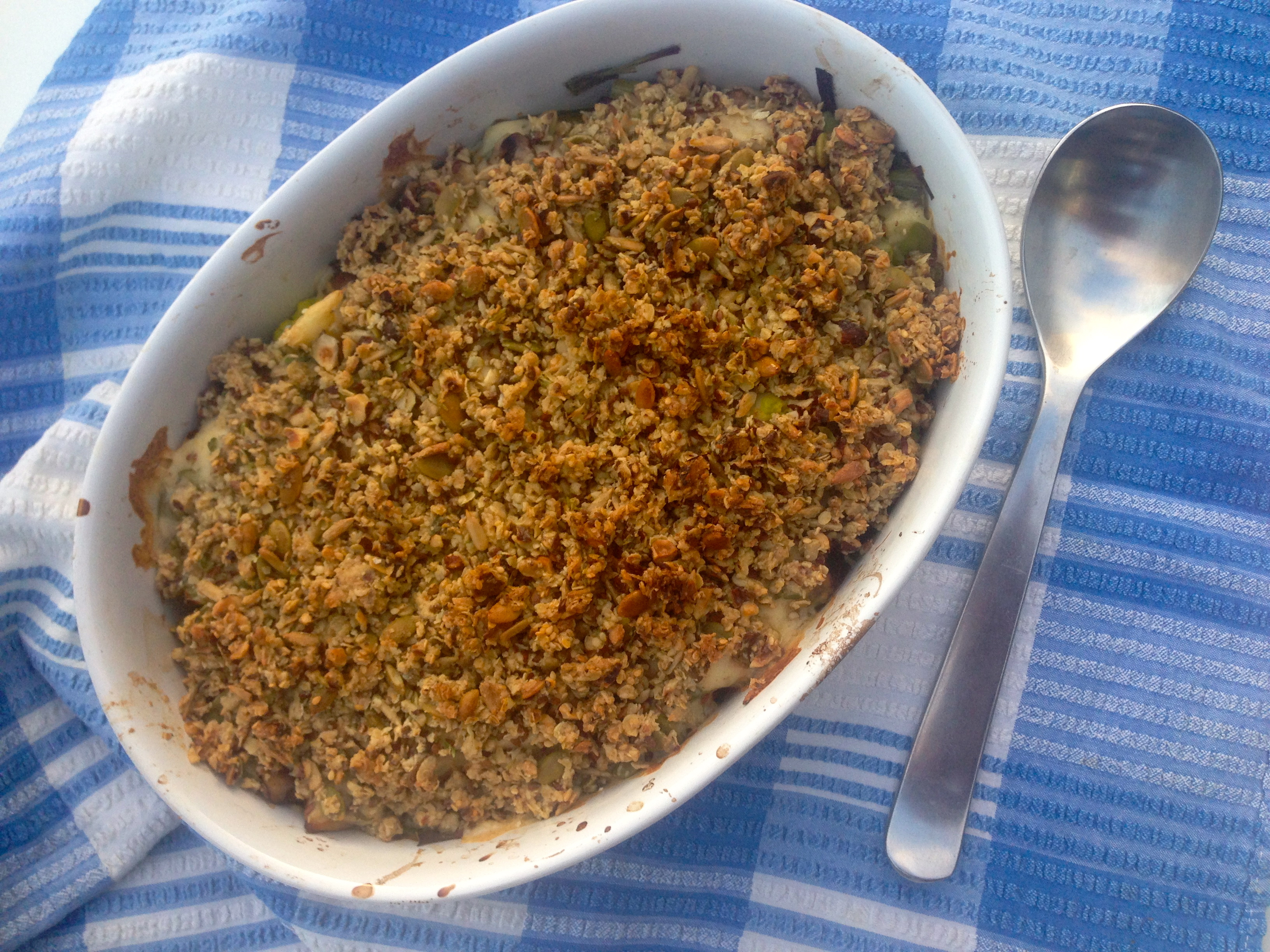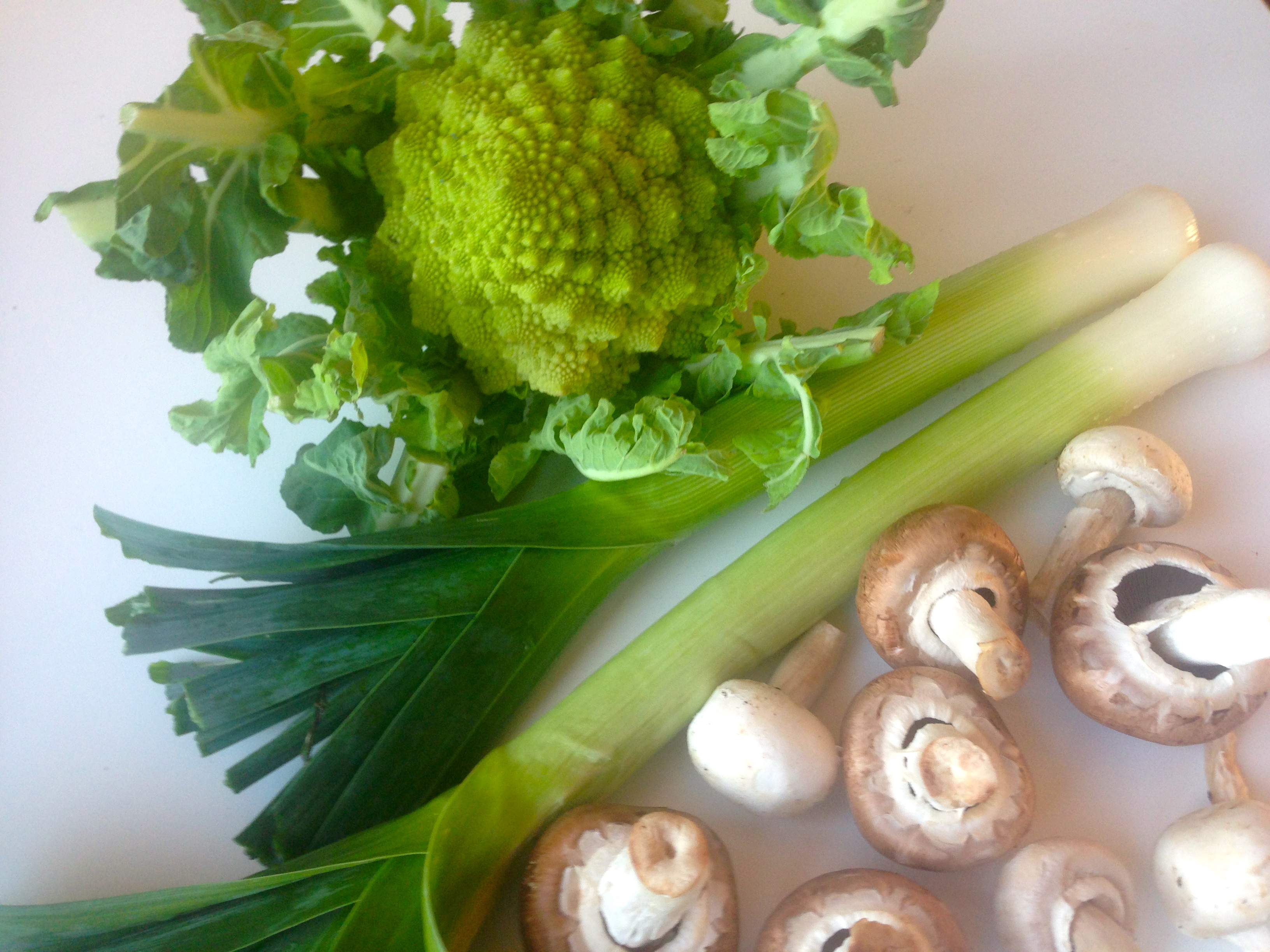 Savoury crumble is a great way to combine different textures in one pot! If you can't find romanesco you could use broccoli or cauliflower instead. The sauce here is really enhanced with mustard and lemon, bringing the whole dish to life and complimenting the nutty garlicky top to perfection!
1 small romanesco or broccoli or cauliflower head
2 large leeks, chopped into 1 cm rounds
200 g mushrooms, roughly chopped
30 g vegan margarine
30 g gluten free plain flour
300 ml almond milk
1 heaped teaspoon of whole grain mustard
juice of 1/2 a lemon
1/4 tsp of cayenne pepper
salt and pepper
olive oil
small handful of parsley, roughly chopped
1 sprig of thyme, stalks removed
50 g hazelnuts, whizzed in food processor till roughly chopped
50 g buckwheat flour
50 g porridge oats or buckwheat flakes
1 tblsp each of pumpkin, sunflower, sesame and ground flax seeds
50 ml extra virgin olive oil
1 clove of garlic crushed
pinch of salt
1 tsp dried oregano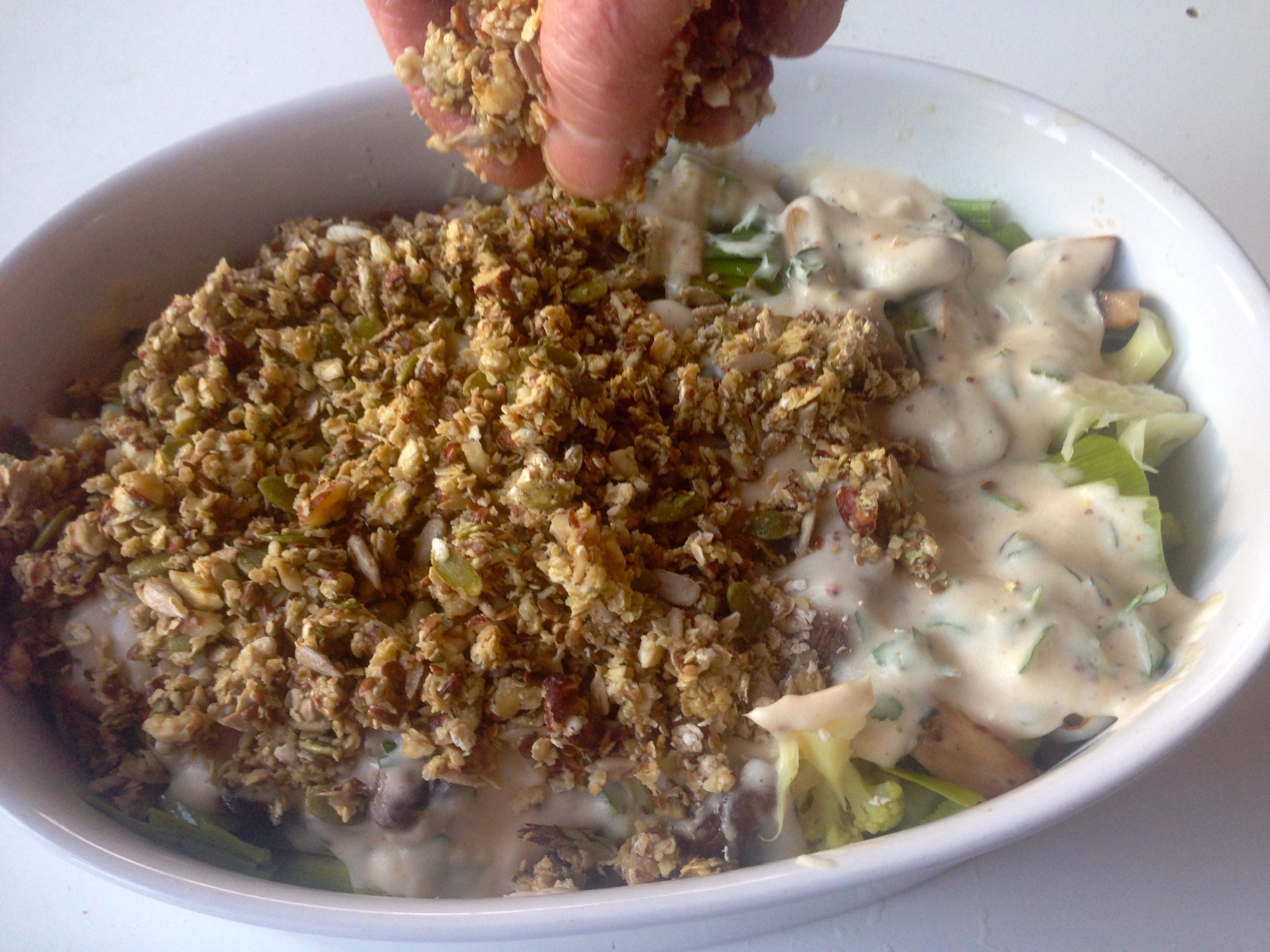 1. Preheat the oven to 200°c. Steam roast the leeks on a tray with a little olive oil and a couple of tablespoons of water. At the same time steam the romanesco lightly in a pan with a tiny amount of water.
2. Sauté the mushrooms in a little olive oil in a frying pan until just beginning to soften. Leave the veg to one side in a large oven dish.
3. In a heavy based sauce pan, melt the margarine before beating in the flour with a whisk. Gradually add the milk, whisking all the time to make a moderately thick white sauce. Season with the cayenne, and a little salt and pepper as well as the mustard, lemon, thyme, and parsley. Pour the sauce over the veggies in the oven dish.
4. In a large bowl, combine all the remaining ingredients to make the crumble and sprinkle on top of the veg and sauce in the oven dish to cover the top. Cook for around 30 minutes in the preheated oven until golden in colour and crisped up on the top. Serve hot.